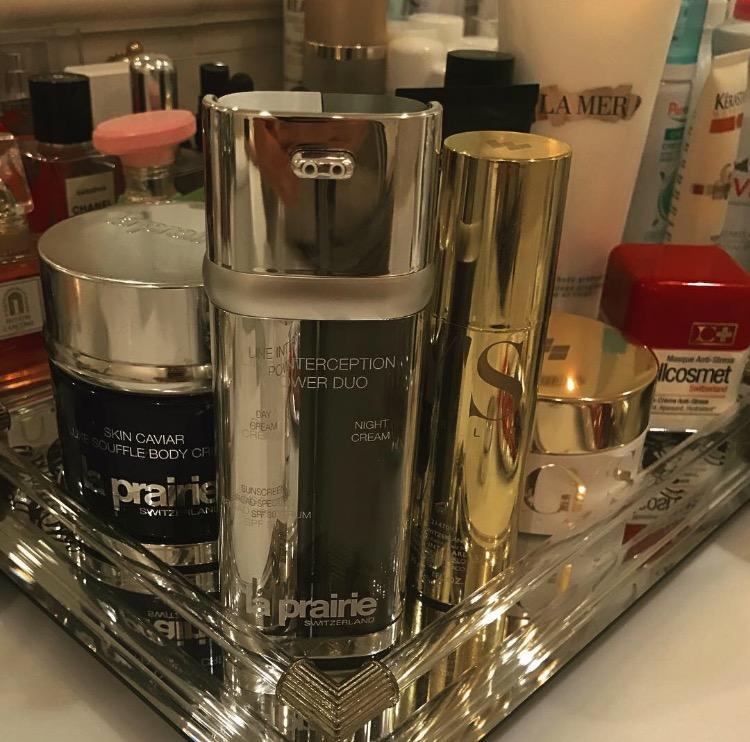 It's been a while I did not write about my beauty tips… always on a move so I need to choose the products which would help to recover my skin after long flights and sleepless nights. So here we go :
1. Margy's mask Is your skin just tired? Let's give it a boost! This Brightness Revealing mask will help your skin to breath better and give it a superb glow. I'm using it every second day in the morning 
 2. Cellcosmet anti-stress cream mask. Anti aging and anti stress action. Counteracts effect of cellular aging caused by stress. Also every second day in between with Margy's
3. Margy's energizing eye cream. This rich-textured sublime Eye zone cream acts like a real youth balm on the fragile eye contour area. Its active substances soften, nourish, regenerate and give the skin elasticity. It also re-plumps and firms by smoothing lines and wrinkles.
4. La Prairie Line Interception Power Duo Emulating more complex skin procedures, Line Interception Power Duo targets wrinkles at their inception and helps to smooth them where they have already appeared. Two distinct creams, one for day and one for night, in two breakthrough formulas to fight three types of wrinkles: expression lines, sun-induced lines and aging/gravity lines and wrinkles.
5. Black Mask deep cleaning purifying peel of Mask
6. Skin Caviar Luxe Soufflé Body Cream La Prairie understands that your body's complexion is as important as that of your face. Now in one step, after showering or bathing, you can make up for years of "benign neglect" with a lavish, benefit-intensive, sensuous formula that has a whisper weight yet is opulent and luxurious. Skin Caviar Luxe Soufflé Body Cream melts into the skin and begins working immediately. I'm using it for so many years it's a must have especially during the winter season.
7. Sisley FLORAL SPRAY MIST The Floral Spray Mist soothes and relaxes immediately. In the morning, it gently invigorates the skin. It is also ideal to get refreshed and revitalize the skin throughout the day. On the beach, it is perfect to moisturize the skin and refresh it in seconds. In the evening, it helps remove the last traces of make-up.
Stay Beautiful
XOXO LenLenStyle