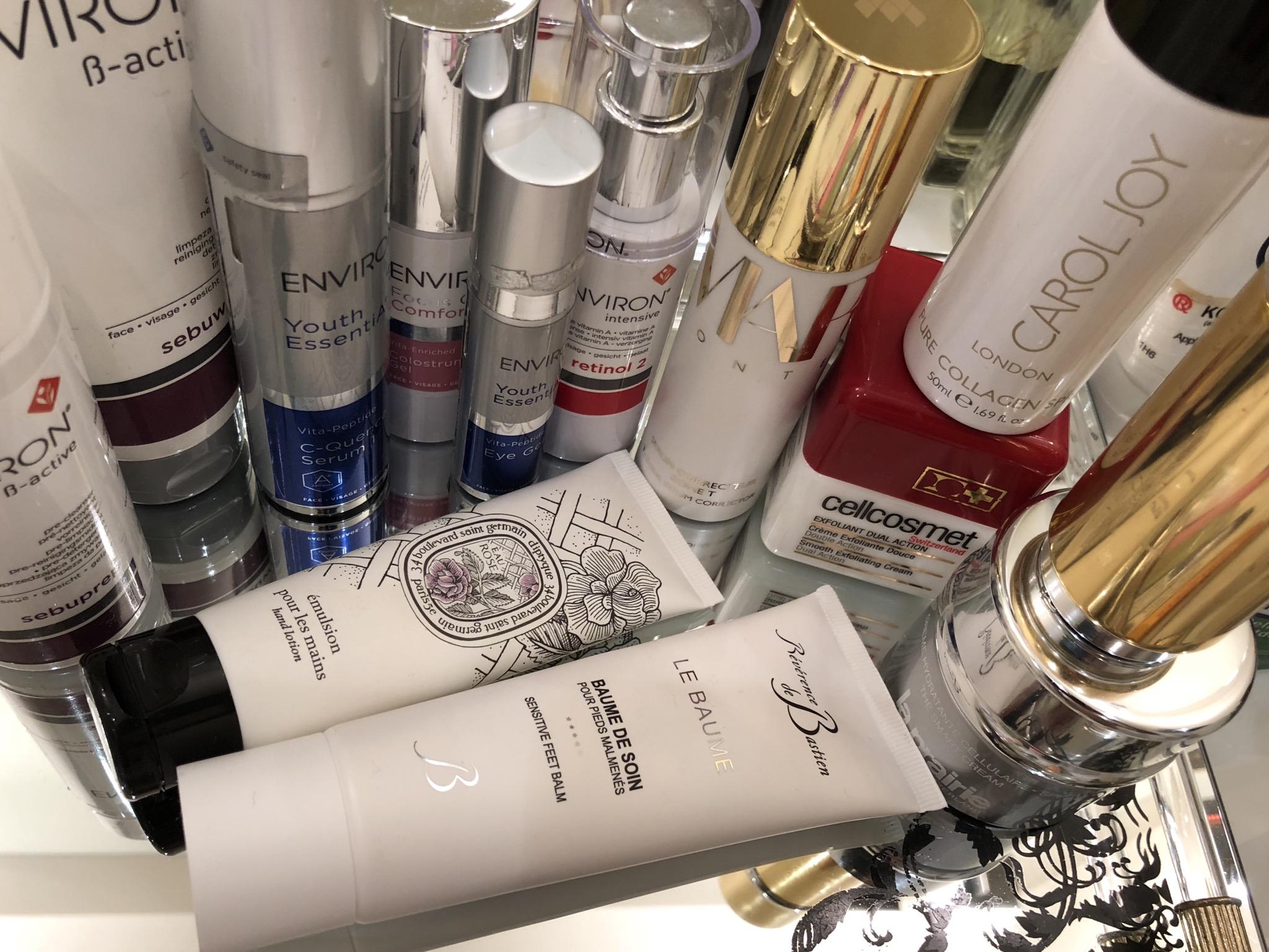 Here is a products I'm using  this month :
1. La Prairie Smart Cream perfect for sensitive skin does not irritate in any way , light, non greasy and goes on silky smooth with SPF 15
2. La Prairie Cellular Radiance Concerned Pure Gold , collagen boosting , illuminates and brightens skin, exfoliation to reveal fresh , improves your skin vitality ( you don't need to use a make up after )
3. Carol Joy collagen spray is one of the fist to use grade collagen reduces wrinkles and replenish depleted levels of epidermal moisture (can be applied on make up , during the day , flight , morning night ) this is my must have !!!
4. Cellcosmet exfoliate dual action The texture is creamy but contains what are called micro-polymers which are the grainy bits. It should be applied to very wet skin after cleansing and then use very light circular motions for 2 minutes before rinsing. The product is stated to have two purposes: Action 1 : Uses enzymes to quicken the natural flaking of keratinised skin cells, clears pores of impurities and surface blackhead. Action 2 : The exfoliating effect of micro-polymers improves the texture of the skin, brightens dull complexions and improves skin respiration. For some time I have been looking for an exfoliator that would remove the dead skin and dislodge the blackheads and whiteheads and I have found it does both of these for me.
5. Margy's Monte Carlo T zone serum corrector. While this is not really hydrating by itself, it does helps control my sebum production in the t-zone.
6. Environ retinol 2 turns back the clock on your aging skin
7. Environ EssentiA Vita pepdide Eye gel contains an arsenal of peptides, essential vitamins and antioxidants
8. Environ Colostrum Gel. The main ingredient in Colostrum Gel is Colostrum, which is derived from Cows milk and has very similar components to Human Milk. Colostrum is also known as First Milk which is generated late in pregnancy by all mammals. It is designed to provide antibodies as disease protection for newborns during the first few days of life. It is extremely high in protein (the building blocks of life) your skin needs it
9. Environ VITA-PEPTIDE C-QUENCE SERUM 1 This serum contains the lowest concentration of vitamin A, C and E that help to support and maintain a radiantly youthful appearance.
10. Environ Sebuwash removes excess oils from the surface of the skin while maintaining the skin's natural moisture balance.
11. Environ environ pre cleansing oil. Pre-Cleansing Oil gives you a clearer, more even complexion. It will soften and emulsify impurities and congestion.
Thank you for reading me and let me know if you have a questions
XoXo LenLenstyle