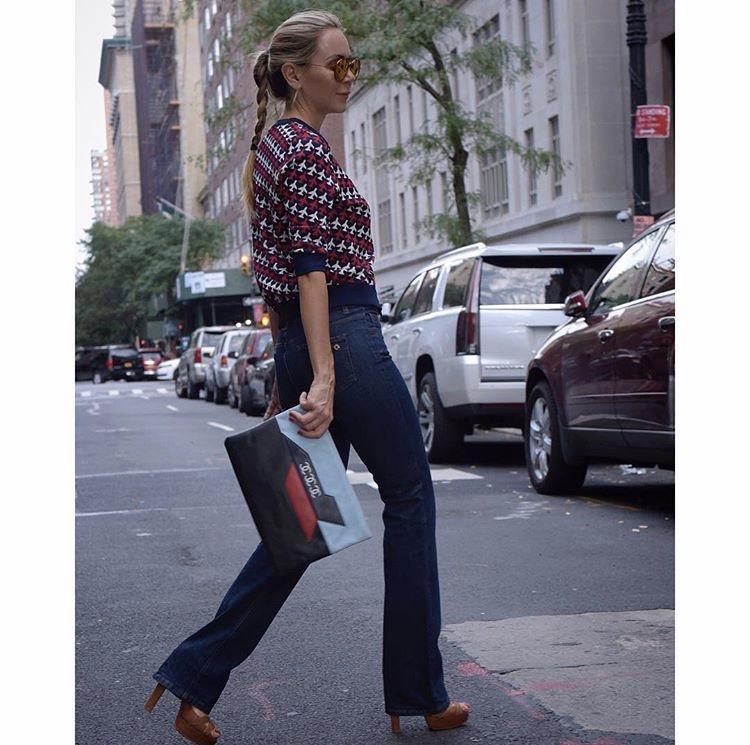 Clean, simple, crisp. These three words are my mantra in everything I love: art, fashion, and food.
Although trends can be fleeting a wide leg trouser and a fitted sweater will never go out of style. This week I decided to pair my Loro Piana flare jeans with my red, white and blue patterned Chanel sweater. Although days after the election I am not feeling very patriotic it is important to remember that even through the hardest of times pride for your country is crucial, therefore showing it in the tiniest ways (such as wearing a red, white, and blue sweater) can make someone standing next to you smile.
To heighten the effect of my wide leg jeans I wore light brown platforms and accessorized my look with a printed Chanel clutch that perfectly played off the design of my sweater. Usually I like to keep my hair down in my natural waves, however for this look I wore a high ponytail braid and although I thought the shift in my hair style was a miniscule difference I got many complements that day on my hair so maybe its time to wear my hair back more often :p Lastly, I wore gold mirrored sunglasses to play off the thin metallic detailing on my bag and also to draw more attention to my new favorite hair style.
Although I was running around New York the whole day this was the perfect outfit for a day filled with business meetings, museum outings, and restaurant openings. Sometimes it's important not to over think the little things in life and although it may seem that the world as we know it is crumbling you may find solitude in a simple yet beautiful outfit.
Thanks for reading me
XoXo LenLenStyle