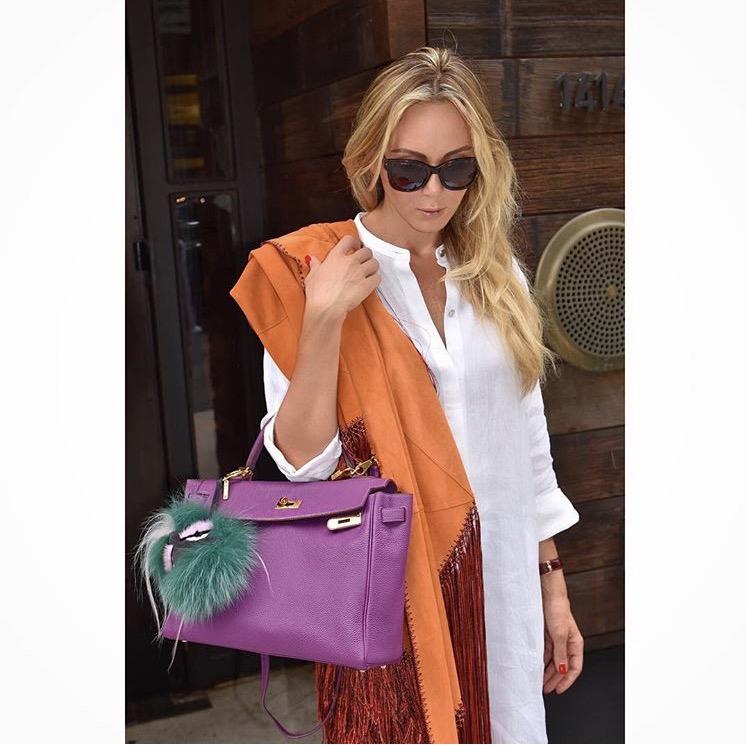 As I was flipping through the pages of Vogue and Harper's Bazaar I realized that a lot of designers are re-inventing summer staples to make them eligible for the winter closet. This got me thinking… how can I pair one of my favorite white Hermes kaftan dresses to be a staple not only in my summer wardrobe but in my winter one as well? Because of the thin material and sheer design of the shirt, tights would look too harsh with the look yet I was still adamant about being able to pair the top with something I could wear in the winter. Then I realized, maybe the perfect pairing could be a take on what I was already wearing. I took off my crème cashmere sweater and put the white kaftan over my flare-leg jeans.
As soon as I looked in the mirror I knew I loved what I saw. It was an unexpected blend of style and materials that made the look current and original. I paired the outfit with brown suede pumps and a bright orange Dolce Gabbana shawl for a pop of color. The burgundy fringe of the shawl perfectly complemented the elongated design of the white Hermes shirt while the thick material hung beautiful on the dark wash of my flare jeans. Never one to shy away from color, I decided to wear my purple Hermes bag with my new Fendi bag charm; the teal and nude colors of the bag charm perfectly balanced the bright purple of the bag. The finishing touches on my new take on a winter outfit were my crimson watch and my square-cut brown lenses.
As I left for brunch that morning I felt a strange sensation as if I was wearing something completely new. And although I am never one to shy away from a shopping trip maybe re-inventing the outfits I already have is one way of freshening up my closet without leaving my own home.
Let me know if you have recently re-invented an outfit that you previously thought was only limited to the summer months!
Thanks for reading me
XoXo LenLenStyle