Misery follows successful romance novelist Paul Sheldon, who is rescued from the car crash by his "Number One Fun", Annie Wilkes , and wakes up captive in her Secluded home. While Paule is convalescing , Annie reads the manuscript to his newest novel and becomes enraged when she discovers the author has killed off her favorite character, Misery Chastain. Anne forces Paul to write a new "misery" novel, and quickly realizes Annie has no intention of letting him go anywhere. The irate Annie has PAul writing as if his life depends on it , and if he does not make her deadline , it will.
Hollywood icon Bruce Willis makes his Broadway debut as Novelist Paul Sheldon.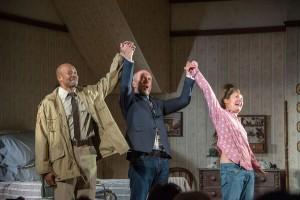 Hurry Up guys to see it, in a strictly limited 16 week engagement!!!
Personally, …just Loved IT!!!!
Thank you for reading me ))
xoxo
LenLenStyle