The Berkeley London designer afternoon tea, Prêt-à-Portea, is inspired by the themes and colours of the fashion world. The menu is transformed every six months to follow the changing seasons in fashion.
The Spring/ Summer 2015 Prêt-à-Portea collection takes inspiration from an array of distinguished fashion designers with two special editions inspired by Alexander McQueen, paying homage to his celebrated Savage Beauty exhibition at the Victoria and Albert Museum. Further delectable details include a take on Anya Hindmarch's Big Eye Collection handbags and Elie Saab's Red Degrade Silk Georgette dress.
A mouth-watering selection of miniature savoury skewers, taster spoons, elegant canapés and tea sandwiches.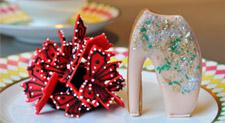 To celebrate the launch of the Alexander McQueen: Savage Beauty exhibition at the Victoria & Albert Museum we have included two of his most iconic designs into the collection. The 'armadillo' shoes are transformed into a a heeled chocolate biscuit whilst the much adored feather Butterfly Hat by Philip Treacy for Alexander McQueen's Spring/Summer Collection in 2008 is reinvented as a deliciously dark chocolate mousse with a chocolate miroir and delicate red sugar butterflies.
Giambattissta Valli mini tower of light pink joconde sponge ruffled with raspberry crème suprème and topped with a dramatic pop of pink spun sugar
Oscar de la Renta's iconic princess gown of coconut and lime mousse set on a sablé Breton with delicately placed green leaf icing
Jean Paul Gaultier Crème de Menthe cremeux with dark chocolate ribbon and mint jelly finished with white orchid meringue, rhubarb crisp and edible purple petal
Philip Treacy for Alexander McQueen's butterfly hat with chocolate glazed gianduja mousse
Emilio Pucci's summer coat of light cheesecake and apricot Emanuel sponge finished with bold dark chocolate buttons
Elie Saab's Red Degrade Silk Georgette dress duo of blended strawberry and mango bavarois with mango compote, topped with flame like sugar frill
Alexander McQueen's "Armadillo" vanilla shortbread shoe with cream icing and edible sparkles
Anya Hindmarch's Big Eye Collection handbag of blueberry victoria sponge wrapped in light blue chocolate with candied cartoon eyes
Lisa Marie Fernandez's chocolate shortbread 'Alexa' bikini with green icing and sweetly trimmed cream ribbon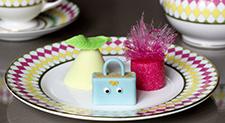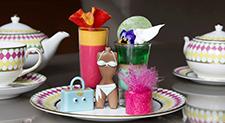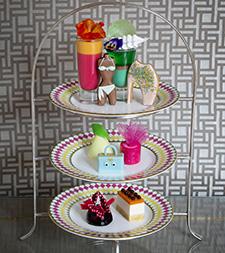 Enjoy your Tea Time)))
XoXo Lenlenstyle