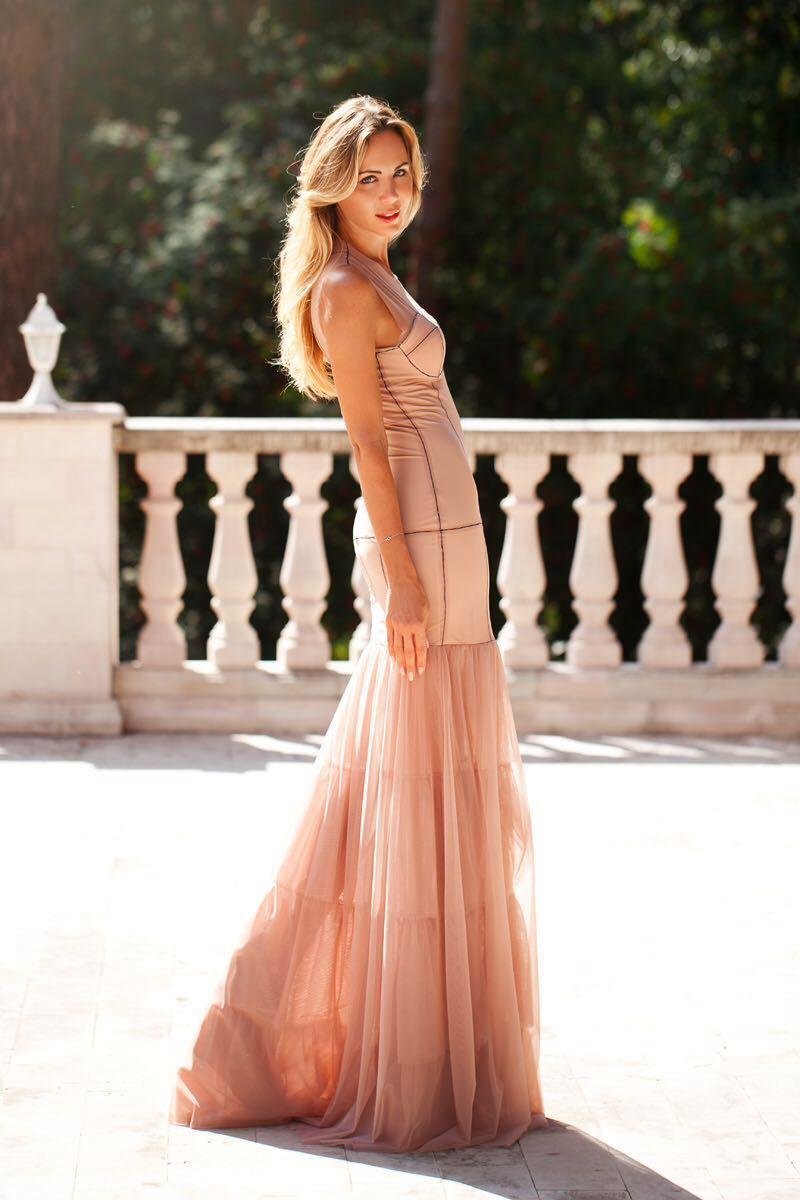 I recently discovered a brand that solved the age old question: what dresses will I wear for gala season(which has just recently started in NYC). This summer I was lucky enough to come across the brand Murmur, in one of my favorite stores BarvikhaDream. Every time I'm in Moscow I make sure to stop by BarvikhaDream because I am able to find original closet staples that will last me for future seasons, no matter where I am. As I was browsing through racks of couture dresses I came across one with a corset top and flare skirt. I was immediately drawn to the lingerie inspired look of the dress, yet the length and full-body of the design made it evidently elegant.
The first dress that I tried on was a peachy beige color and it had a long corset underlay with a thin sheer fabric going from the very neck of the dress to the floor. The handcrafted dress fit my body perfectly, and hugged my hips without stretching the fabric. The detailed workmanship was clear from the very first time I put on the dress. It was a retro design with a subtly modern flare that made this dress, in particular, perfect for any fancy outing. To make sure not to take away from the details of the dress, I styled my hair in my signature loose waves and stuck to a dewy summer makeup look. Although the first time I wore this dress was in the heat of summer, it will perfectly line the city streets now, as the weather is still warm.
However, once I step into BarvikhaDream I can never leave with just one dress. I ended up falling in love with two more dresses by Murmur. The first was a more casual black day dress. It fit like a snug t-shirt, and had a zipper going directly down the middle. Around the waist, was a thick band that gave the simple dress a corset-like look. I paired this dress with black pointed-toe pumps and a statement choker. The great thing about this particular piece is that it can be an easy transitional dress from summer to fall and fall to winter. I plan to pair this dress with tights and a leather bomber when the temperature drops, (which hopefully won't be too soon).
Then, as I was walking to the register at BarvikhaDream I came across a beautiful black dress that I had to immediately try on. It was unlike any dress I've seen before. It had a thin corset bodice with discrete straps that held up the under layer of the dress. Then, from the waist- down a beautiful knee-length skirt with sheer, black stripes brought the delicate yet firm nature of the dress together. I paired this look with a bright red lip and black pumps. It was a showstopper the first time I wore it, and I can't wait to repeat the look once more.
After discovering Murmur I realized that lingerie inspired fashion is not only for the bedroom 😉
Thanks for reading me
XoXo LenLenstyle