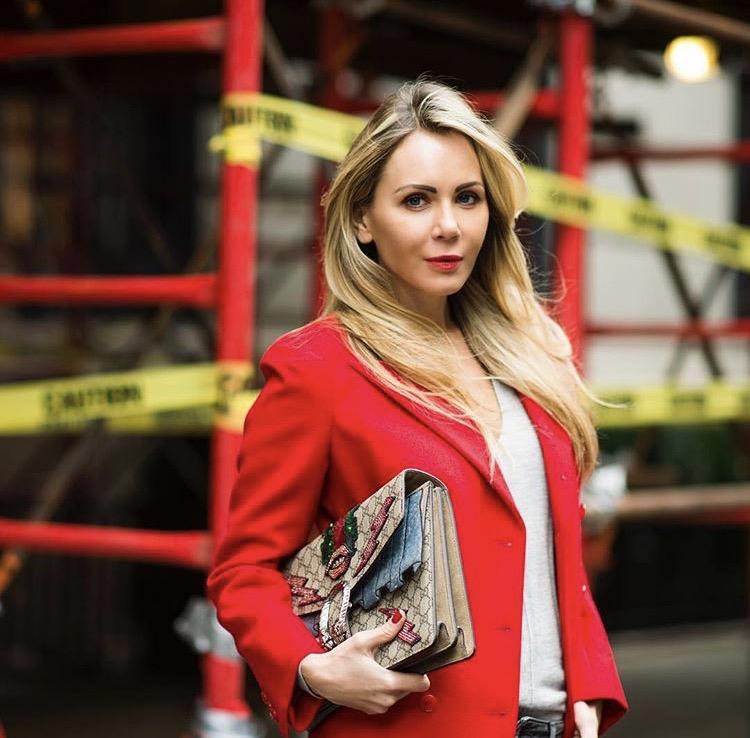 Street style is as important as dressing for a gala. Your day-to-day outfits reflect the kind of person you are and how you present yourself through the clothes you wear. For today's outfit I decided to pair skinny fray grey jeans with a white loose t-shirt and accessorize it with several pops of color. A basic grey and white base is the perfect canvas for any outfit—especially when you are planning to wear bright colors to accent certain articles of clothing. My bright red Saint Laurent coat elevated the look from simple to fashion- forward. I wore my hair pulled back behind my ears to highlight the black velvet lapel design on the jacket and I accessorized with low-heel bow booties by one of my favorite new brands: N21. The stylish chunky silhouette is perfect for running errands during the day and can also be dressed up for a night filled with dancing.
I paired this outfit with one of my favorite bags: the Gucci Dionysus Supreme embroidered bag. The eclectic mix of crimson, emerald, light blue and pink lightening bolts are beautifully balanced by the classic Gucci-print beige and brown canvas. The red-embroidered appliqués detailed lip perfectly highlighted my Saint Laurent trench, and brought the outfit full circle. Gucci's most recent rebranding has brought the brand back to the top and I could not be more excited to pull out some of the vintage pieces I have and be able to mix it with Alessandro Michele's contemporary designs.
This outfit is a perfect mix of style, comfort, and creativity. When picking your outfit for the day, don't forget to bring some color to the otherwise grey streets of New York!
XoXo LenLenStyle