The main Mykonos attractions are the beaches, where you can sunbathe, relax, snorkel — even party. Paradise Beach is considered the no-brainer shore option here, though you should expect to be one of many tourists enjoying its soft sands. Away from the beach, tour Panagia Paraportiani in Chora, photograph the Windmills, or visit the island of Delos for its archaeological finds. Travelers also love Little Venice for its restaurants, shopping and postcard views. Save some energy for an evening out, as the island has long had a reputation for seaside hedonism.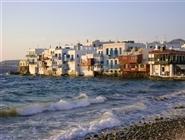 This Chora neighborhood is known as one of the most stunning places on the island. Overlooking the southwest end of the harbor, it was here that many early ship captains decided to settle down and built uniquely magnificent homes overlooking the sea. Today, many of these historic homes have been transformed into a variety of cozy restaurants, bars, shops and nightclubs, making this a bustling place at all hours of the day.
These iconic windmills overlooking Little Venice date back to the 16th century when islanders used wind power to grind grain. There are 16 windmills in total, and while they are no longer operational, they stand as a monument to early innovation. The views here are spectacular: From this hilltop perch, you can see Chora and the harbor in the distance. While you're here, you might want to check out the nearby Mykonos Agricultural Museum, part of the Mykonos Folk Museum.
On your way to the windmills, don't overlook the surrounding neighborhood of Alefkandra. This historic area is a great place to stop for a bite to eat or a glass of ouzo as you head back toward Little Venice.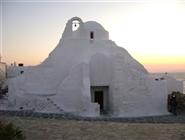 If you ask them, Mykonians will tell you that their island is home to 365 churches — one for each day of the year. However, Panagia Paraportiani is by far the most famous.
Soft sands, azure seas and a rowdy atmosphere have made Paradise one of the most popular places on the island.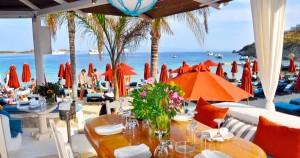 Mykonos is world famous for its beautiful golden sandy beaches and transparent waters. There is a beach for every taste and mood. Nudists, round-the-clock party people, families and those seeking a break from the madness of Mykonos will all be able to find a beach that fits their taste.
The beaches on the south shore of the island have the best sand, view and are protected from the Meltemi, the local Cycladic wind. Keep in mind that most people begin to arrive in the early afternoon, and you can avoid the worst of the crowds by going in the morning. The north coast beaches are less developed but just as beautiful. They are less organized and crowded and most suitable for those in search of a bit of calm.
Nammos the beach restaurant offers the same glamour and prestige its perfect as long as you are up to party not to meditate…
Nammos Restaurant
For more than ten years now, Nammos Restaurant has been one of the top beach dining establishments in Europe. It's not a matter of luck that our cuisine has been praised by food critics from all over the world. With an exquisite Mediterranean cuisine made from the best ingredients, fresh fish and vegetables from local gardens, along with a wine list containing labels from both Greek and international vineyards, we guarantee to delight even the most discerning palates.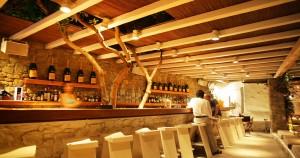 Nammos Concept
If you are looking for top quality food cooked to perfection, consider our suggestion of dining at Nammos Concept; the brand new gourmet restaurant, right next to Nammos Restaurant.
At Nammos Concept, you will enjoy a refined culinary experience with the finest delicacies and excellent wines.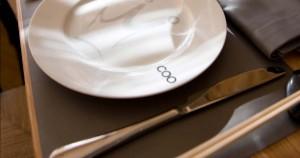 Coo
A favorite of sushi lovers, Coo restaurant was established in 2006 on the most famous street in Mykonos, Matogianni, and later moved next to Nammos.
Coo welcomes you for a great dine and wine experience, with delicious food, great presentation and excellent service!
Beefbar is the most famous restaurant was born in Monte Carlo is also located at Nammos Beach.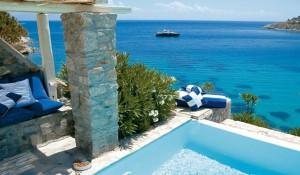 One of the most romantic hotels on Mykonos and a great honeymoon pick. Equal parts charming and trendy. Located on Psarou beach which is both wonderful and well-protected from the wind. Food, music, and dancing are just down the beach at Nammos. Walking distance to Platys Gialos beach and the excellent restaurants there. The free shuttle service gets you to Mykonos Town in less than 10 minutes.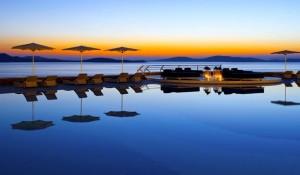 Mykonos Grand The best 5 star hotel on Mykonos. Wonderful pool with views and direct access down to a very good beach (though it does have some stoney patches). The largest suites have 3 beds (1 queen, 2 twins) sea views, and a private pool. The hotel has 2 restaurants, one of which serves top notch gourmet food, and the popular Hippie Fish restaurant is just down the beach. Agios Ioannis is the beach where Shirley Valentine was filmed. Mykonos Town is 15 minutes away by bus which run frequently.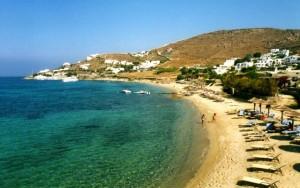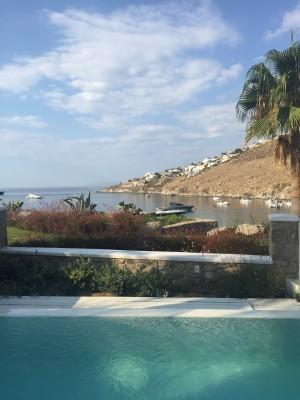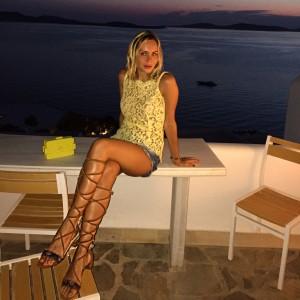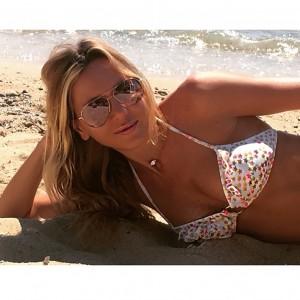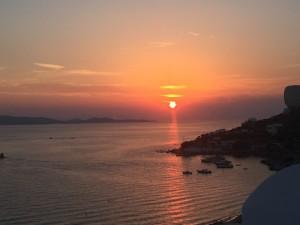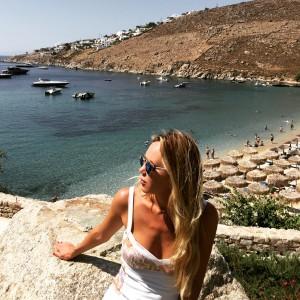 Hope you are enjoying your vacations and thanks for reading me
LenLenStyle xoxo