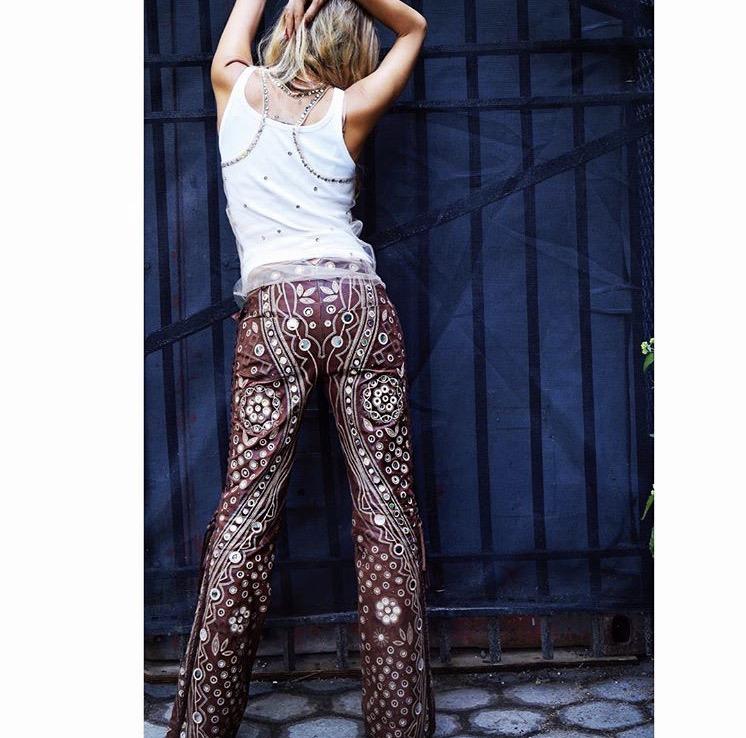 Sometimes it's better from the back.
And although a crisp white shirt and wide leg trousers are perfect for most occasions this outfit pushes the envelope for what it means to re-define the classics and want constitutes assets 😉
When my girlfriends called me saying that we are going to Barbounia on Friday night for dinner I got super excited. Not only because I was craving the crispy baby artichokes or the thinly sliced fish crudo, but also because I knew exactly what I was going to wear that night. These beautiful burgundy embellished Dior pants have been hanging in my closet for the past few months and I have been dying to wear them but the "perfect" occasion has not come up—so I decided to create my own. The grand Mediterranean décor of Barbounia perfectly complemented my Turkish-style embroidered pants. My white La-Perla top drew focus to the pants while also providing a muted shine that balanced out the dark burgundy and the silk texture of the top softened the laser-cut embroidery of the pants. To elevate the look yet keep the accessories understated I wore tall nude pumps and neutral jewelry.
My outfit, and the entire feel of the restaurant brought me back to my Mediterranean summer in Santorini, but as soon as the front door opened a cold gust of wind hit my shoulders and I quickly realized that the Greek sun had set long ago. But the good company, delicious food, and sweet cocktails made me remember that all a girl really needs is fabulous fashion and even better friends to have a good time.
Thanks for reading me
XoXo
LenLenStyle