The new concept designed by Karl Lagerfeld the Hotel Metropole Monte-Carlo, ODYSSEY, featuring the new swimming pool with a stunning fresco-style installation made up of 15 glass panels portraying Ulysses's jour.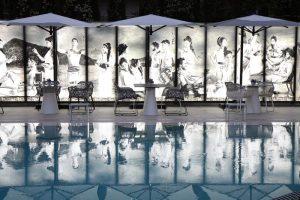 To mark the start of the summer season, Hotel Metropole Monte-Carlo is delighted to announce the re-opening of Odyssey, Monte-Carlo's destination restaurant and bar.
At the edge of its pool, it unfurls its charms, casting a spell which plays the ace of enjoyment savoured in the lounge bar. Black and white design with a wafting ambiance of seaside chic, subtle lighting, soft background music. The decor bears the signature of Karl Lagerfeld, who has created a tailormade atmosphere blending a festive spirit with refinement.
Absolute must of the Golden Square, Odyssey invites Sound Designer Béatrice Ardisson to compose the playlist. Located in the heart of Monte-Carlo, this elegant and cozy bar whets appetites with a selection of innovative cocktails.
At the restaurant, Chefs Joël Robuchon & Christophe Cussac sign a Mediterranean inspiration menu subliming the freshness and lightness of seasonal products.
A unique experience, exclusive to the Hotel Metropole Monte-Carlo, reserved during the day for hotel residents.
The hotel will also offer the Junior Suite Experience for guests who want to take full advantage of Monte Carlo in the summer.
The staff were incredible – probably the friendliest most helpful I have experienced – without a fuss but wonderfully helpful.
Pool is gorgeous with a salty water and perfect place to recover after the party…)
Fabulous place to have a drink.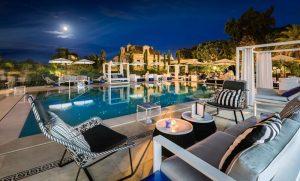 Xoxo LenLenStyle