Monte carlo…2015
After Busy New York, its good to spend some time in a small place like Monte Carlo, where we can do a lot of things besides catching up with a friends)))
In addition to beach-bumming and champagne-sipping, you can visit the fish at the Oceanographic Museum and Aquarium, the cacti at the Exotic Gardens and the changing guards at the Prince's Palace. You could also experience some spa treatments at Les Thermes Marins Monte-Carlo or try your luck at the slots of Monte-Carlo Casino. You should also whittle off some time to people-watch and to enjoy some Monégasque fare.
One of Monaco's most popular beaches, Larvotto is a free-to-the-public shore located just a few-minutes' walk from Monte-Carlo. But like many French Riviera beaches, this one has pebbles rather than sand, so bring some sturdy shoes and be prepared to shell out some euros for a chair rental.
Casino:
Perhaps the attraction that best exemplifies Monaco's capital city is its casino. The building's Beaux-Arts design was overseen by Charles Garnier, architect of the Paris opera. And likewise, this grand casino also contains the city's opera and ballet. If this complex looks familiar, it's because you might've seen it before in the James Bond films, "Never Say Never Again" and "Goldeneye." It was also the inspiration for the casino in Ian Fleming's first Bond book, Casino "Royale."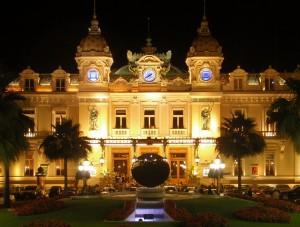 Oceanographic Museum and Aquarium:
Founded in 1910 by Prince Albert I (also a sea captain), this museum/aquarium is one of the must-sees. The prince went on dozens of expeditions, and the exhibits are the fruits of his explorations: For example, the skeleton of a whale featured in the museum's zoology room. And the aquarium — widely considered one of the best in Europe — contains more than 90 tanks, one of which is a shark lagoon.
Prince's Palace
This lavish Monaco-Ville palace is home to the prince, of course (it's in the name after all). The royal residence has sheltered the Grimaldi family (of the 13th century) and Prince Rainier III and his lovely wife, Princess Grace (of the 20th century). Today, Rainier's son and heir, Prince Albert II, calls the Palais du Prince home. Many recommend at least stopping by the palace on your Monaco vacation, even if you're not up for a tour of the state rooms.
Monaco Cathedral
This Monaco-Ville cathedral is probably most popular because it contains the grave of Grace Kelly, the actress-turned-princess of Monaco.
Princess Grace Rose Garden
Thousands of roses blossom and diffuse their sweet scents in Fontvieille's Princess Grace Rose Garden. Located in the southeast corner of Monaco, this garden is a great place to find respite from bustling Monte-Carlo
Museum of Antique Automobiles
None other than Prince Rainier III funded and gifted this museum with his personal collection of cars; if you go gaga for autos you'll absolutely freak out over the array on display here. There are 100 vehicles, which range from carriages (as in horse-drawn ones) to the Rolls Royce that Grace Kelly rode in on her wedding.
Exotic Garden
Plant lovers and horticulturists unite! The Exotic Gardens, which lie along La Condamine's cliffs are "fabulous."
You'll see more than a thousand plant species, including cacti and even an underground cave. But in order to tour its stalagmites and stalactites, you'll need to follow a guide.
Hope you all had a great Summer )) and Thank You for reading me
LenLenStyle xx