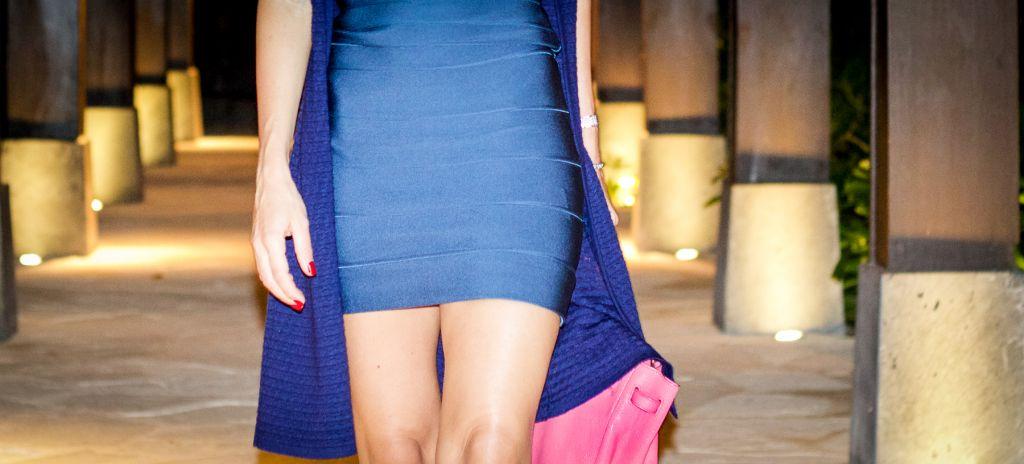 As you can see guys I am on vacations) Caribbean could warm me up after freezing New York! It is been a while I did not wear Herve Leger dresses .. have them almost in all colors but had an over dose as so many people were wearing it… Packing … what to wear… reading the magazine … fashion week in New York… We love looking at celebrities in Herve Leger. It gives us a great idea of how the dresses fit on different body types. And, it's just PURE FUN to …try it on again wearing on vacations and take pictures )
You have probably noticed Hollywood's endless obsession with bandage dresses. The most famous fashion brand for these body-flattering items is doubtlessly a French fashion house Herve Leger. Herve Leger was a huge fashion hit in '80s because it created body-con dresses. Their breathtaking designs are so addictive that you'll never choose another brand once you wear a fabulous Leger dress. Kim Kardashian or Jennifer Love Hewitt, they have plenty of HL in their closets.
One of the hottest women in the world, Jennifer Lopez, looks stunning in every single Herve Leger dress she owns. As you can see below, a Herve Leger dress can be matched with pumps and lots of glamorous accessories, but you can also wear it with knee boots. There are no fashion rules for what you should and shouldn't wear it with: Herve Leger dresses are elegant and feminine, so you should find some sexy heels and matching accessories.
Herve Leger knows how to design for women's bodies. This dress plays up every curve. It's very va-va-voom. I felt very sexy wearing, but it's still looks and feels classy. The fabric is thick and holds you in. The color is PERFECT! It's a real standout. The dress looks and feels expensive, not cheap or tacky. I received compliments all night long from both men and women, young and old, about how amazing I looked. I ordered both the XSmall and Small but ended up wearing the X Small and I'm glad I did because the bust stretches out through the night and the Small would have been way too large a few hours into my evening. No bra needed with that dress. It was such a hit and I loved again. I would wear these dresses more often now. LOVED IT!!!