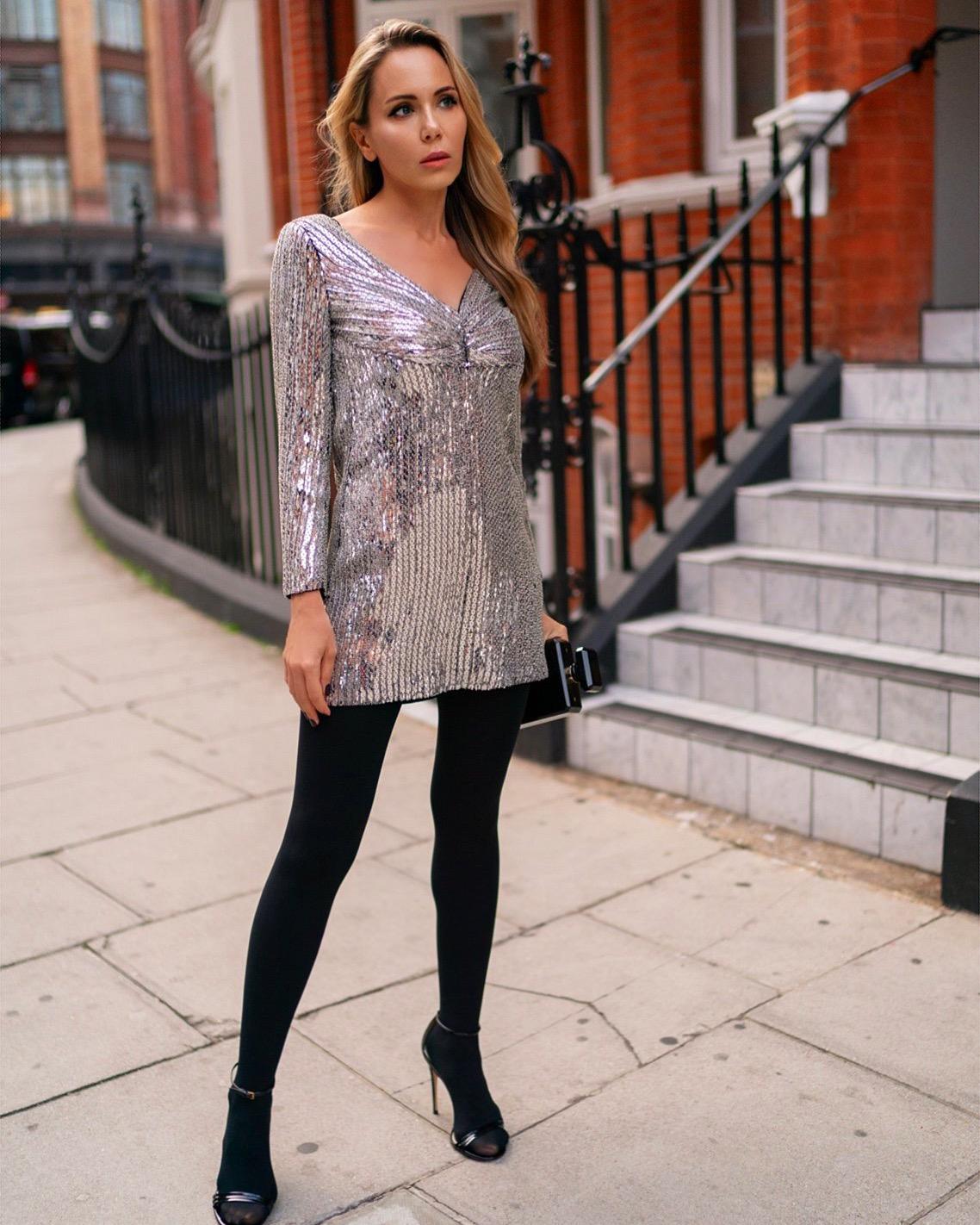 Dear Readers,
Constant temperature decrease urges us to take care of ourselves and protect our body from the cold. Wonderful solution for that is the essential attributes of any woman wardrobe, which is highly used during the autumn &winter seasons are tights and/or stockings. However, its function is not limited just to the heating of the body. Today, it combines with decorative one and can enhance your physiological advantages and easily make you a magnet for attention. Moreover, tights & stockings are exclusively female accessories, but originally this type of clothing was intended exclusively for men! Beautiful, elegant and of course warm accessories are indispensable in creating an image with a skirt or dress.
In the new autumn-winter 2018-2019 season, fashionable tights and stockings are thick and thin materials adjacent to the body, demonstrated by fashion designers in various designs. Monochrome classic, bright color, openwork, with the subject images and prints, are presented in almost all lines. As the result, the choice of tights plays an important role in creating a harmonious image.
In the upcoming season, all will also be relevant: white; the black; bodily; shades of gray (including silver); colored patterns with geometric patterns and openwork motives. When choosing bright colors, pay attention to shades as close as possible to those included in the top 10 according to the Panton Institute (lime, grenadine, port, mauve, sea, forest green, marina, autumn maple).
For those, who think that bold experiments and innovative ideas of fashion designers are for extravagant and scandalous fashionistas and instead you prefer laconic classics and discreet shades. Then feel free to choose models for replenishing your collection. Such as transparent monophonic tights; openwork options; two-tone tights with a pattern of a contrasting tone; elegant variations with imitation stockings; warm tights with surround decor.
The main rule that should be followed when choosing tights is an inversely proportional number of colors and decor on the legs and in the other elements of clothing. In a word, the brighter and richer the flashy decorations of the outfit itself, the easier it is to have stockings, and vice versa, you can add creative tights to attractive looks to beautiful slender legs.
In order to successfully pick tights and be satisfied with your purchase, you need to know a few simple rules. The first thing you need to pay attention to is density. It is usually indicated on the package and it is measured using a value that is abbreviated den. In the event that you need inconspicuous thinnest tights, and you cannot go with open legs, choose tights whose density is 8 den. Tights with a density of 20 to 40 den on the leg will already be more noticeable. Usually, they are worn in the fall and spring if the weather is warm. On the cold days including winter, I would recommend using density equal to or more than 50 dens. In addition to Capron tights for winter 2019, you can buy warm fashionable cotton or wool tights, they will perfectly warm in the cold and emphasize the slimness of the legs. The most popular – tights office style and it is 20-40 den. Products with a density of 10-12-15 den are indispensable for evening dress. The most difficult thing is to choose a suitable color.
It is essential that tights are comfortable and they do not slip or immediately tear. The size is indicated on the package and is made up of the total weight, height, and volume of the hips. When choosing, decide when you will be wearing them and for which events. Red models are only suitable for parties, and in the physical, in winter you will be cold and uncomfortable.
Stocking lovers are mostly bold and fashionable women. However, for the shows and events, they are used nearly by everyone. Moreover, in recent years, a popular trend, originally from Japan, has spread around the world and has come to fashion design shows. Sexuality has been always attracted and appreciated by men. It is a known fact that a woman in stockings always feels beautiful and sexy, so it is unlikely that stockings or imitation of them will ever lose their relevance.
In 2019, I would highly recommend having such appreciated advantageous wardrobe details. Indeed, tights are much more convenient and practical option and stockings can be left on a more suitable occasion. Often tights with imitation stockings can be seen in such images, where they are combined with shorts, hats, shifted to the back of the head, rough shoes on the platform. It looks best when combined with sweaters, dresses that make the image very cute, but hardly suitable for the working environment. And nevertheless, such tights can be combined even with office suits. It is important to remember about the density of the material. If you choose a sweater for them, then the tights should be tight. Light and evening dresses, on the contrary, require a thinner material. The main rule in drawing up the image with openwork tights is modesty in all other elements of clothing.
Also, massive or too bright decorations are categorically not appropriate. Otherwise, you may look simply vulgar. But the openwork cold tights made of thick materials will be very useful for every girl. They not only come to a place in everyday images but are tender and warm. Designers presented a variety of options for openwork tights, where you can see sequins, rhinestones, and beads.
The focus is on restrained colors: black, beige, brown, white. And the motifs can repeat the classic lace or be in the form of strips of dense material. Openwork, like colored specimens, is more suitable for girls with straight legs, as it tends to emphasize defects. And yet, this cannot be said about the version with vertical lines. It significantly narrows and lengthens the leg.
Really fashionable will be any geometric prints and a variety of patterns. It can be massive embroidery and have a variety of decorative elements that will make the product bright and interesting. The combination of madness and ease of fabric – are the simple words about the modern decor of tights and stockings of 2018-2019.
Indeed, everything is bright and bold in fashion, and it touched both tights and stockings. Leopard print will be especially popular. It can be combined with clothes of calm tones. The tattoo effect on pantyhose will also become fabulously fashionable; it will be appreciated by those who so dreamed of tattooing on their own body. Floral prints will also look stylish. The main thing is not to overdo it with the saturation of color, everything should be in moderation.
Season 2019 introduced into fashion such types of tights: With Lurex and fishnet. Such tights are back on the fashion catwalks. They need to be worn only for modest outfits. Otherwise, the image will be ridiculous, and the fashion critic will be merciless; Lurex, lace, and mesh should be worn with modest outfits in order to look appropriate.
I personally love simple black tights of any density – from translucent to dense matte. Black tights – are universal, they are suitable for any image and style. Avoid black tights with glitter, they fatten the legs and can reduce the price of even the chicest bow. My favorites are matte, opaque, black tights. They fit perfectly in office style, casual outfit or evening ensemble. Also, black tights with imitation stockings, in mesh and fishnet are in fashion.
Choosing tights require proper selection, I would suggest researching the company. Ordinary tides without a pattern are easily combined with dense, warm skirts of any length; denim, woolen or tweed shorts; skirts and culottes; dresses from dense fabric; sweaters. It is very easy to pick up shoes for black ties as well. Any options – from sandals in early autumn to boots with fur in the middle of winter, will be the way. Be warm, stylish and sexy!
XoXoLenLenStyle
Thanks for reading me