The US Open is the 4th major tennis tournament each year and played at the historic United States Tennis Association (USTA) Billie Jean King National Tennis Center at Flushing Meadows in Queens, New York City. With a two sessions per day during the two weeks of the US Open tennis tournament. There have been some legendary matches during the night session that stretched well past midnight, but that is part of what makes the US Open one of the most electrifying sporting events in the World. There are 5 main championships awarded at the US Open, including; Men's Singles, Women's Singles, Men's Doubles, Women's Doubles and Mixed Doubles.
The 2015 US Open started on August 31st, 2015, and was feature the best tennis players in the world. 2015 it was the 135th edition of the US Open, and comes off what was one of the most historic finals in US Open history in 2014. The favorite coming into the 2015 US Open on the men's side, was without a doubt : Novak Djokovic. Djokovic has reached the finals in all three of the grand slams in 2015, winning the Australian Open (also on hardcourt) and Wimbledon. He was faced tough competition in an ageless Roger Federer, and a determined Andy Murray. Congratulations to him for this Year, he is a Champion and when I was watching him i was impressed by his staying-power and endurances and self-control nothing to add more he is a Winner!!!!
On the Women's side of the bracket, Serena Williams returned as the favorite in 2015, even though she lost this year it was very emotional tournament with her sister. The most important its a family and we all saw it at her way of carrying …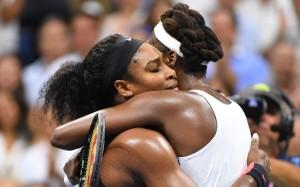 Sep 8, 2015; New York, NY, USA; Serena Williams of the USA (left) hugs sister Venus Williams of the USA after their match on day nine of the 2015 U.S. Open tennis tournament at USTA Billie Jean King National Tennis Center. Mandatory Credit: Robert Deutsch-USA TODAY Sports / Reuters
here is an official score of players
It was a great tournament, and I think we can't judge on players, at the end its a question of Luck. Everybody did the best they could!
LenLenStyle xx